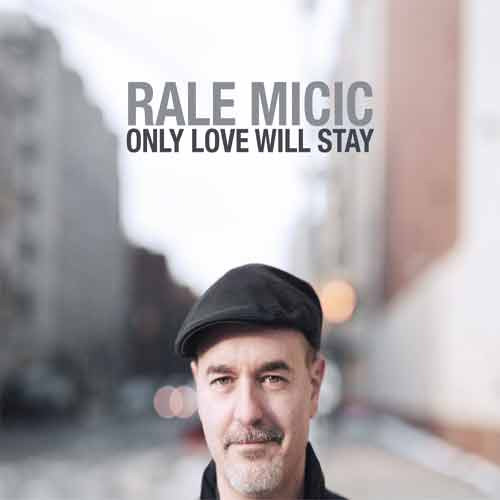 Jazz guitarist and composer Rale Micic has followed a path characteristic of many European jazzmen who settled in the United States. A native of Belgrade, Micic (born 1975), having already acquired a good jazz reputation in his native Serbia, went to Boston in 1995 to study at the famous Berklee College. Among his teachers there were such famous personalities as George Garzone and Bob Brookmeyer. In 2000, Micic moved to New York and over the years has become a prominent figure in the jazz scene of the Big Apple. Rale released his first album, Bridges, three years later, offering listeners a mixture of jazz with Balkan music. And already during the recording of the second album ,Serbia, Micic was helped by such a prominent master as the trumpet player Tom Harell. Micic played in his ensemble, worked with Greg Hutchinson, Don Friedman, Eric Alexander.
Today we present his new work Only Love Will Stay, Micic's second album for Whaling City Sound. To create it, Rale chose the chamber format of a jazz trio, and without a bassist. His guitar voice is assisted only by the Hammond organ, with the famous Jared Gold and drums (Johnathan Blake and Geoff Klapp) sitting at the keys. The album was made up of recordings of two sessions, in the fall of 2019 and in the summer of 2020, hence the line-up and two drummers, each of whom worked in one of the sessions.
Of the eight compositions that made up the album's program, five are the author's music by Rale Micic. Covers here are his interpretations of Even Steven by John Abercrombie (symptomatic: many compare Micic's playing style with Abercrombie, and, as he himself says, John's organ groups served as a model for this project), Irwin Berlin's classic "How Deep Is The Ocean" and "Lipe Cvatu (Linden Trees Are In Bloom)" by fellow countryman, Serbian composer Goran Bregovic. This, however, does not limit the connection with the homeland in this project. Micic's opening and title track "Only Love Will Stay" also contains echoes of Balkan music. It seems to me that it was no coincidence that this piece gave the name to the entire album. Very beautiful, warm, a little sad melody, soulful sound of a guitar, delicate organ reprise – for me it became a personal favorite of the album. A brief and aphoristic assessment of the entire project was given by Micic's partner Jared Gold: "In playing the guitar, Rale has a unique voice. He combines a very melodic approach with a keen knowledge of harmonies. His original compositions reflect his life experience and tell the listener about his roots …" It's hard to disagree.
Leonid AUSKERN
4/25/21
Click here for the full review!