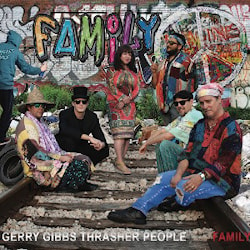 Drummer, composer and bandleader Jerry Jeebs, nicknamed Thrasher ("Thresher"), has been working with Neil Weiss' independent label Whaling City Sound for a very long time and very fruitfully. His latest work here was the big double album Songs From My Father (2021), an epic tribute to the work of his father, famed vibraphonist Terry Jeebs. Here the music of Gibbs Sr. in a trio format with Jerry was played by such giants of jazz as Chick Corea, Ron Carter, Kenny Baron and others. Earlier this year, the amazing album The Terry Gibbs Songbook appeared , featuring 98-year-old Terry and, of course, Jerry himself, the inspiration and soul of this project. And now Whaling City Sound offers jazz lovers a new author's work by Jerry Gibbs as part of the Gerry projectGibbs Thrasher People , also a very voluminous double album (over two hours of soundtrack) called Family.
What kind of family did Jerry Jeebs have? In his travels across America, Jerry discovered a whole group of talented and ambitious musicians in San Antonio, Texas, who became part of the Thresher people for this project. These are wind players Eric Hargett and Jerry Espinoza, bassist James Suter and guitarist Tommy Howard. A little later, the outstanding vocalist Michelle Gabey Carey joined them. The Texas Low Budget Orchestra "borrowed" their string players and horn player for the recording. This is how the album was recorded.
Neil Weiss was impressed by the work of the musicians and agreed to release a double album, which included more than two dozen tracks, an amalgam of classical standards and author's stuff. Of course, there were a lot of bright episodes in such a large program. I remember the cheerful Latin-Caribbean theme of The Caribbean Song, the composition with the optimistic name Everything Must Change, the blues-flavored tempo composition Pickin'Up The Pieces, the ironic finale of the album called The Band of Losers, the unexpected rap from Tommy Howard in Directions/Roll Call. Of course, Michelle Gabey Carey's vocal parts graced the program, especially in Song for My Father and My Favorite Things. However, I found the program to be somewhat lengthy. Perhaps the album would have only won if Jerry Jeebs had made a tougher selection and limited himself to one disc.Texan-accented Gerry Gibbs Thrasher People did nothing to ruin the leader's discography with their thirteenth album on Whaling City Sound.
© & (p) 2023 Whaling City Sound
2 CDs
1 st : 12 tks /68 mins
2nd : 9tks / 53mins
(Gerry Gibbs – dr, perc, Hammond B-3 org, ac.p; Michelle Garibay Carey – voc, perc, background org; Jerry Espinoza – ss, as, ts, fl, piccolo, perc, background org; Eric Hargett – ss, ts, bars, bass cl, perc, background org; Tommy Howard – el.g, ac.g, slide g, rapper, perc; James Suter – ac.b, perc;)
Link provided by Ginny Shea, Mixed Media
Leonid AUSKERN