Facebook: Judith Lynn Stillman
Publicity: What's Up Newport?, NBC Facebook Live ,WPRO, Providence Journal, The Jewish Voice/Jewish Rhode Island, Opera Wire, Reviews, Rhode Island Month April:2019, Providence Journal, The Armenian Weekly, Boston Globe, HuffPost, Rhode Island Monthly: Oct 2018, Rhode Island Monthly Dec: 2018, Princeton University: 2014, Audience Awards: Social Justice, The Pachaccos: Youtube, The New York Times: 1978
Mixed Media Client since: 2019
PROVIDENCE, R.I. Oct.12, 2020 — Pianist and composer Judith Lynn Stillman, won first prize in OperaVision's #OperaHarmony contest, for her groundbreaking short opera, Essential Business, produced remotely while in COVID-19 lockdown.
The competition was a global initiative to join creatives from around the world to rethink opera in the pandemic era, highlighting themes of connection and community. OperaVision is the online platform for Opera Europa, representing major opera companies including La Scala and The Bolshoi.
Essential Business is a powerful commentary on spirituality and the need for connection during isolation. Set during the 2020 coronavirus quarantine, Essential Business tells the story of a young pastor, as he wrestles with his faith, family, and the loss of his ministry amid the pandemic. In a moment of crisis, he reaches out to God via a Zoom call, for a modern-day confessional.
Stillman composed and performed the score and served as filmmaker/producer. The music incorporates operatic, gospel, blues, and musical theatre influences, around the story themes of religion, race and culture, the social impact of the virus, and creating music in isolation.
"For me, Essential Business captures a microcosm of the societal lockdown dilemma," said Stillman. "Humans crave connection. Being in isolation can be devastating. To what extent do we take risks to mitigate these challenges? Is there a way to reconcile both faith and science when there can be life and death consequences?"
Stillman teamed up with Metropolitan Opera baritone, Will Liverman, who performed the role of the pastor, and U.K. artists Anna Pool and Elayce Ismail, to write the libretto and produce the 10-minute piece.
Earlier this year, Liverman was the first Black artist to play the role of Papageno in The Magic Flute at the Metropolitan Opera. He will be a lead in the premiere of the first opera by a Black composer to be produced at the Met in 2021.
The award continues a streak of accolades for Stillman, a Juilliard trained performer, composer, filmmaker, and Rhode Island College's artist-in-residence, whose compositions – even during COVID quarantine – have received awards from Hollywood to Cannes.
10/30: Music Without Borders Preview at #RhodeIslandCollege at 1PM & 11/2: Show at #RhodeIslandPhilharmonicOrchestraAndMusicSchool at 8PM. Details below!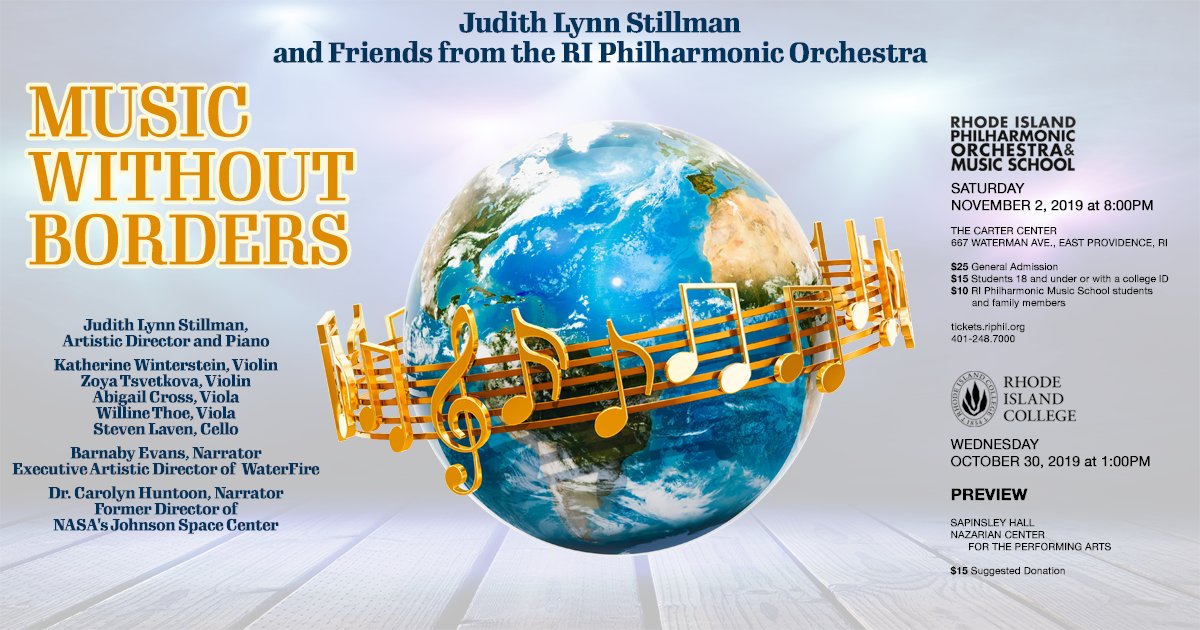 April in Paris with Poulenc:
Judith Lynn Stillman and
Friends from the Rhode Island Philharmonic Orchestra
Monday, April 22, 2019, 1p
Sapinsley Hall, Rhode Island College
Admission is free with a suggested donation of $10
and tickets are available at the door
Saturday, April 27, 2019, 8p
RI Philharmonic's Carter Center for Music Performance & Education
667 Waterman Ave.
East Providence, RI
Judith Lynn Stillman, artistic director, and pianist
Curt Columbus, Francis Poulenc
RI Philharmonic Orchestra members:
Rachel Braude
, flute
Denise Plaza-Martin
, oboe
Ian Greitzer
, clarinet
Kevin Owen
, French horn
Ronald Haroutunian
, bassoon
Poulenc: Trio for Piano, Oboe, and Bassoon
Poulenc: Sonata for Flute and Piano
Poulenc: Sextet for Piano and Wind Quintet
Tickets are $25 for adults, $15 for students 18 and under or with a college ID,
$10 for RI Philharmonic Music School students and family members.
Tickets can be purchased online at tickets.riphil.org,
in person from the RI Philharmonic Orchestra Box Office in East Providence,
or by phone 401.248.7000 Mon-Fri, 9a-4:30p
Day of concert tickets will be available at the Carter Center starting at 7p
Questions and for information email, boxoffice@riphil.org
Judith Lynn Stillman,
Five members of the RI Philharmonic Orchestra, and 
Trinity Rep's Curt Columbus team up for 
April in Paris with Poulenc, April 27
Trinity Rep's Curt Columbus is featured in Stillman's new play-within-a-concert
East Providence, RI–The Rhode Island Philharmonic Orchestra & Music School hosts April in Paris with Poulenc: Judith Lynn Stillman and Friends from the Rhode Island Philharmonic Orchestra with a special appearance by Trinity Repertory Company's Curt Columbus. Pianist Stillman and Columbus perform with Orchestra members Rachel Braude, flute, Denise Plaza-Martin, oboe, Ian Greitzer, clarinet, Kevin Owen, French horn, Ronald Haroutunian, bassoon.
Together they present the premiere of Stillman's play-within-a-concert, April in Paris with Poulenc, in which Curt Columbus is featured in the role of French composer and pianist Francis Poulenc (1899–1963). His portrayal is interlaced with the performance of three of Poulenc's masterworks. The event is at 8 p.m. on Saturday (April 27) at the Carter Center for Music Education & Performance, 667 Waterman Ave., East Providence. (On Monday, April 22, at 1 p.m., an abridged version will be performed at Sapinsley Hall, Rhode Island College.)
"Francis Poulenc epitomizes French culture and the Parisian arts scene, from the literary café to the music hall. With Curt Columbus brilliantly inhabiting the persona of Poulenc, the composer's extraordinary and oftentimes divergent qualities are brought to life. An eccentric, erudite, witty and colorful character, he was paradoxically both religious and risqué, saucy and serious, sublime and silly," Stillman noted. "It's been said that there's a little bit of Poulenc in each of us."
About Judith Lynn Stillman, pianist, composer and filmmaker: Judith Lynn Stillman has been hailed as an "artistic visionary," is the Artist-in-Residence and a Professor of Music at Rhode Island College. She has performed throughout the world, at Carnegie Hall, Lincoln Center, Marlboro, Tanglewood, Grand Teton Festival and at the Grammy's celebration in honor of Rostropovich. She has appeared with Wynton Marsalis, Borromeo, Shanghai, Muir, Cassatt and Lydian string quartets, the Beach Boys, in a BOSE commercial with Herbie Hancock, as visiting guest artist at major conservatories in China, Russia and the Czech Republic, and as music director in Rome and Verona, Italy. Winner of 18 piano competitions, the first Pell Award in the Arts, and the Christiana Carteaux Bannister Award for Civil Service in the Arts, Stillman holds bachelor's, master's and doctoral degrees from The Juilliard School, where she won the Juilliard concerto competition and the Dethier Prize for Outstanding Pianist. Stillman, as filmmaker-composer-pianist, has garnered awards including Grand Jury Prize: Best Music Video, Best Multimedia Film, Best Music Score and Audience Choice in international film festivals in Los Angeles, Montréal, New York and the United Kingdom. Her iconic duo recording with Wynton Marsalis on Sony Classical was on the Top Ten of the Billboard charts: "Stillman and Marsalis make an impeccable duo. The playing consistently dazzles."
About Curt Columbus, Artistic Director, Trinity Repertory Company. In January 2006, Curt Columbus became Trinity Repertory Company's fifth artistic director. He is also the artistic director of the Brown/Trinity MFA programs in acting and directing.