Joan Chamorro & Andrea Motis/Feeling Good
You Tube: Feeling Good, Hallelujah, "Feeling Good", Moon River, Love Me Or Leave Me 

Press Release

Publicity: Pandora, Midwest Record, All About Jazz, The Guardian

Radio Promotion JazzWeek Chartbound 8/10

Mixed Media Client since: 2015
Listen: Feeling Good
Hallelujah ANDREA MOTIS JOAN CHAMORRO QUARTE 
***
"Feeling Good" Andrea Motis & Joan Chamorro 
***
MOON RIVER ANDREA MOTIS, JOAN CHAMORRO , JOSEP TRAVER
***
Love Me Or Leave Me – Andrea Motis – Joan Chamorro – Gordon Webster 
_________________________________________________
Pandora is Now Playing "Feeling Good"!
* * *
The Guardian's review on Joan Chamorro & Andrea Motis: "Feeling Good". 
Joan Chamorro/Andrea Motis: Feeling Good review – a jazz celeb is born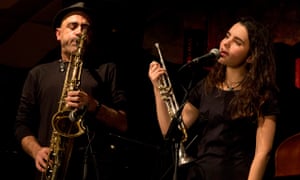 Teenage prodigy Andrea Motis, a product of Barcelona's famous Sant Andreu youth jazz band and a newcomer unselfconsciously wearing star quality like a halo, plays London's Pizza Express JazzClub next week, belatedly launching the album she recorded at Barcelona gigs with mentor and saxist/bassist Joan Chamorro when she was 16. Motis has the kind of pearly, barely exhaled voice, paced with canny improv swerves and casual timing, from which jazz celebs are made. She also plays poised, straight-swing trumpet, and sounds childlike without capitalising on cuteness – most riskily on Leonard Cohen's Hallelujah, a much-covered option full of slippery meanings, which she embraces with an awed yet expectant impatience (even if her English pronounciation adds mysteries to Cohen's poetry that would probably fox even him). These 16 short tracks feature plenty of chugging mainstream swing, some floaty Astrud Gilberto-like samba, and two versions of Lover Man to which Motis imparts her own kind of fragile optimism. It's minimally produced, breaks no rules, and student players mix with eloquent pros, like the accomplished Chamorro. (Billie Holiday's dialogues with Lester Young clearly inspire theirs.) Its honesty should be a model for the glossier major-label handling of this remarkable arrival's work, bound to follow.
Jazz Weekly's review on Joan Chamorro & Andrea Motis: "Feeling Good". 

"We are excited to let you know that your submission of 'Feeling Good' has been approved! Congratulations!"
| | | | | | |
| --- | --- | --- | --- | --- | --- |
| Frankly Jazz/WKXL 1450 am & 103.9 fm | 18 Shaker Rd. | Concord | NH | 03301 | Frank Wilner |

Morekind words from Frank!

 I have played "In My Solitude" & "My Funny Valentine" and "Gee Baby" along with "Lover Man" will air this Saturday (6/13/15)…On my "Frankly Jazz" show I have played "Moon River"……other tunes by Andrea & the Chamorro group I have played from the recording she did with Scott Hamilton……Andrea is truly amazing & such a talent..her vocals I love with that  accent & her special way with a lyric..warm & so mellow..she plays the trumpet like Chet…this album has led me to other recordings by Andrea with the Chamorro group in addition to the "other" three gals that have worked with Chamorro..great stuff on YouTube to watch…..Rita Payes (age 16) is special as well……. Ignassi Terraza is a terrific pianist & Josep Traver is super on guitar…world class musicians playing behind Andrea..what a combination..how can you help not "feelin' Good"….

5/22/15 "It was such a delight talking with you and thank you so much for sending this cd to me. As I mentioned every now & again I'll learn about a new performer that I really like..it's so exciting for me & quite frankly it doesn't happen all that often. I've been into this music in a big way since the mid 50's & sort of just fell into putting together my two jazz shows both of which get plenty of air time here in Concord,N.H. "Frankly Jazz" is now in it's 8th year on WKXL 103.9 fm,1450am & I'm into my 3rd year doing "Voices In Jazz" on WNHN 94.7fm (all jazz vocals). As you can imagine it's a labor of love for me..my goal is to just try and educate folks about jazz…..I'm constantly buying music & filling in the gaps…"Feeling Good" is such a great disc…if you check out Andrea's recordings with Joan Chamorro the tunes are all standards, "great American songbook" tunes..it's just so great to hear someone so young be "into" this music….warms my heart…. I wrote up a quick note which I'll include below…maybe you can use some of this or perhaps a line or two from my note to Andrea..whatever you do is OK with me….I'm in your debt….."Feeling Good" is such an apt title for this fabulous recording.Andrea is a major talent; as mellow as can be. Great tunes with such warmth and beauty and her trumpet is "Chet-like". The piano and guitar work is especially noteworthy. Joan Chamorro (bass & tenor) anchors the entire project. Highly recommended. Ginny, thanks again for making the past few days so exciting..as you can tell this music really gets to me….already contacted a good friend of mine in MInnesota who shares my passion for this music & he's excited which always makes me feel good……the best to you…Frank

5/28: Hi Andrea, I'm assuming this will get to you. My name is Frank Wilner…I have two radio jazz shows that air on a regular basis here in Concord, New Hampshire. Today I received your cd "Feeling Good" from Mixed Media and what a total delight. This is a fabulous recording with great musicians. Straight ahead jazz..great tunes. As you might have guessed this is the first that I know about you and Joan Chamorro. I also read some of the info about you on the internet & listened some to your album Joan Chamorro Presenta Andrea Motis…looks like another good one. I love your voice..just so mellow and I also like your read on these great tunes. I will be playing you on a regular basis. I want to wish you luck with your career..keep that great music coming..Oh by the way your trumpet playing is so cool…."Chet-like" if you will….the best to you….you are a major talent…….regards, FrankAmazing-wow!! Did a 5 albums!?! Entirety Scott Hamilton
 "5/30/15: I was so taken with the recording "Feeling Good" that I ordered Jamboree Barcelona which featured the Chamorro group, Andrea & special guest tenor great Scott Hamilton. The package arrived yesterday..I say package because in addition to the cd of 12 tunes it included the added feature of the dvd so I get to watch these performances…I have you to thank for turning me on to the great group and Andrea.This was recorded in 2013 when she was either 17 or 18..On "All Too Soon" she plays alto sax along with Scott's tenor..another incredible recording..such a talent and I must say that the entire group is super…If you haven't heard this recording do yourself a favor and give it a listen..also you have probably watched the 55 minute concert that she & the Chamorro group put on..so much fun with dancers as well..so creative, so straight ahead and swinging…..the public needs to know about Andrea & this group…..what a total delight..it's the thirties,forty's & 2015 rolled into one. If it wasn't for you I might never have known about Andrea and these great performers…thank you so much for all this joy…….sorry to be a pest…..regards, Frank