Harry Skoler
Spotify: "Living In Sound: The Music of Charles Mingus"

Apple Music: "Living In Sound: The Music of Charles Mingus"

Listen: Song Clips

Publicity: #87 on top 500 Francis Davis Poll, Jazz Weekly, Jazzsquare,Vandoren Blog, Vandoren,  Billboard, Jazz HQ, PR Web, Sheet Music,  Newburyport Arts, All About Jazz, shanleyonmusic, DANSR

Groove Marketing:

Harry Skoler #72 JazzWeek Top-100 – 2022

Mixed Media Client since: 1995
Click here to read the full review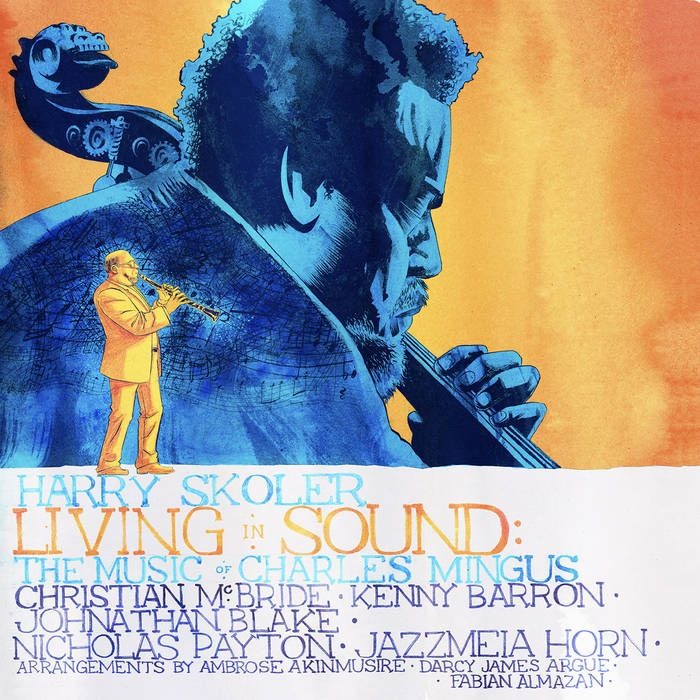 In 2022, the jazz world celebrated the centenary of the birth of one of the brightest jazz giants – bassist and composer Charlie Mingus. Exactly on his birthday, April 22, Sunnyside Records released a tribute album Living in Sound: The Music of Charles Mingus dedicated to his memory.
The soul and initiator of this project is Harry Scoler, a professor at the famous Berkeley College, a music critic and writer and, of course, an acting clarinetist with a great career behind him. Once upon a time, back in 1974, in Syracuse, New York, young Harry discovered the music of Mingus in the master Moves' album that year. She made a huge impression on Scoler, he became a loyal fan of Mingus' work, read his autobiography Beneath the Underdog with great interest. Many years later, in 2018, Scoler came up with the idea of recording an album of works performed by Mingus and shared his dream with saxophonist Walter Smith III. The latter agreed to produce the project and showed real miracles in this capacity. Just look at the composition of the recording participants, see what stars he managed to collect: for the piano Kenny Barron, on bass – Christian McBride, Nicholas Peyton plays on the trumpet, Jonathan Blake plays behind drums, in one of the tracks sings the incomparable Jazzmeya Horn, and an excellent string quartet was also invited. But that's not all. When the program was prepared, Walter invited equally brilliant masters – Darcy James Argy, Ambrose Akinmuzir and Fabian Almazan – to write arrangements. They were granted absolute creative freedom in their work. By August 2021, everything was ready, and the entire composition of the project participants recorded this program in two days.
The result is in front of you, and anyone who hears Living in Sound: The Music of Charles Mingus can appreciate the great work of such a bright team. I was bribed by this result from the first track, because the album began with my favorite play by Mingus (and I'm not alone in this) Goodbye Pork Pie Hat. The Skoler clarinet sounds great in this thing, and the strings adequately support the elegantly solemn atmosphere of the composition arranged by Almazan. Peggy's Blue Skylight is very good for Barron and especially McBride, who had to act as if as Mingus himself. He, along with Scoler and strings, decorated Duke Ellington's Sound of Love, a play that Mingus dedicated to his favorite jazz composer. The 1971 song Remember Rockefeller at Attica Mingus, who often responded to various events in American life, was written in the wake of the riot of prisoners in Attica prison and the behavior of New York Governor Nelson Rockefeller in this regard. Nicholas Peyton's trumpet and Harry Scoler's clarinet masterfully convey the nervous and disturbing atmosphere of this play. In Moves, Peyton and Horn demonstrate a spectacular duo of trumpet and human voice, and Invisible Lady is very good at experienced Barron. The album ends with a play by Scoler himself Underdog, which looks like the author's signature under his work.
The album is powerful, and I won't be surprised if we see it among the Grammy nominees, or maybe it will bring its creators the Golden Gramophone itself.
© & (p) 2022 Sunnyside Records
9 tks / 65 мин
(Harry Skoler – cl; Kenny Barron – p; Christian McBride – b; Johnathan Blake – dr; Jazzmeia Horn – voc; Nicholas Payton – tp; Megan Gould, Tomoto Omura – vi; Karen Waltuch – viola; Noah Hoffeld – cello;)
Link provided by Mixed Media
Leonid AUSKERN

The righteous and bombastic nature of the great bassist/composer Charles Mingus made him a polarizing personality. His unique personality, combined with his groundbreaking music, were magnetic for open-minded listeners. Clarinetist Harry Skoler discovered Mingus and his music early in life. This discovery would change his entire trajectory as a person and musician, which Skoler celebrates on his new recording, Living In Sound: The Music of Charles Mingus.
Skoler had a challenging adolescence while growing up in Syracuse, New York during the 1960s and early 1970s. While seeking solace from a traumatic event, he discovered the world of Charles Mingus, initially from the bassist's Mingus Moves LP (Atlantic, 1974). The overwhelming impact on Skoler led him to investigate both Mingus's legendary musical oeuvre and his autobiography, Beneath the Underdog. Mingus's words and music resonated with the young musician. It is as though he had found truth in the work of one artist.
It wasn't long before Skoler was able to experience Mingus in the flesh at Syracuse University's Jabberwocky student club. The experience was beyond anything that Skoler had experienced up until then. Mingus's powerful presence and command were larger than life. The experience was imprinted deeply on Skoler and is represented in an original graphic story by Dave Chisholm included with Living In Sound.
Over forty years later, Skoler already had a wonderful career as a working musician and professor at the celebrated Berklee College of Music. In 2018, his life was saved from a ruptured artery; then depression set in. This is when Skoler met saxophonist Walter Smith III. Meeting Smith proved to be the catalyst and spark that Skoler needed. Skoler immediately felt that he needed to record again and asked Smith if he would be willing to produce a new album, to which Smith agreed.
It was the collaborative effort of Skoler and Smith that proposed a project celebrating Mingus with strings. Skoler was excited by the possibilities and the project went forward with Smith suggesting the string quartet, jazz accompanists, and arrangers for the pieces. The producer was able to gather an all-star group, which included pianist Kenny Barron, bassist Christian McBride, drummer Johnathan Blake, trumpeter Nicolas Payton, and vocalist Jazzmeia Horn. A string quartet of violinists Megan Gould and Tomoko Omura, with violist Karen Waltuch and cellist Noah Hoffeld was also commissioned.
The recording features arrangements by some of the brightest compositional minds in jazz, namely Darcy James Argue, Ambrose Akinmusire, and Fabian Almazan. The pieces to be performed were selected ad hoc by the arrangers or by Skoler and Smith. The arrangers were trusted to do whatever they wanted in the arrangements. The pieces were ready in August 2021, when Skoler met the band and string quartet at Sear Sound for two days of recording.
The recording begins with Fabian Almazan's arrangement of "Goodbye Pork Pie Hat," bittersweet strings leading to Skoler's laid back reading of one of Mingus's most beloved tunes. Darcy James Argue twists "Peggy's Blue Skylight" dramatically, as the rhythmic strings bounce intricately off one another and McBride and Barron stretch out on their individual solos. Argue created a perfect showcase for Skoler on "Duke Ellington's Sound of Love," providing an at times lush, then spare, arrangement allowing the clarinetist to dial into the same wistful feelings of respect and love for Mingus's hero, Duke Ellington, with the aid of McBride's supportive bass.
Mingus's striking "Remember Rockefeller at Attica" is filled by Almazan's pen with the chilling effect and violence that its namesake event inspired; Skoler's pained screaming through his clarinet, and Payton's thoughtful trumpet are highlights of the recording. Akinmusire's arrangement of Don Pullen's "Newcomer" is nuanced and deep, the tune being from the Mingus Moves LP that was the origin of Skoler's Mingus appreciation. Brilliant vocalist Jazzmeia Horn brings Doug Hammond's "Moves" to life, the subtlety and strength of her voice amplified by the meditative tone poem arranged by Almazan.
Argue chose to tackle "Sue's Changes" for a thrilling and inventive suite with ever changing emotions and transitions, played masterfully by the ensemble and providing Payton some true solo highlights. "Invisible Lady" is a gorgeous, mysterious piece loved by Skoler; Akinmusire's arrangement provides languid, noirish tones. Skoler's original, "Underdog," was completed under the wire, although the conception was developed over months. The composer wrote the piece just prior to the final recording session as a sketch that provides freedom for all the musicians to express themselves without hindrance.
The music that Harry Skoler, Walter Smith III, and their brilliant cast recorded on Living In Sound captures the many moods of the iconoclastic Charles Mingus. There are shades of tumult, harmonic depth, conceptual depth, and abandon. A perfect tribute to the legend to mark his centennial year.
credits
released April 22, 2022

Harry will be performing alongside clarinetist Daizaburo Watanabe, accompanied by Junko Yamamoto on Piano, Daisuke Kishibayashi on Drums, and Shinya Yanagi on Bass.
We're so excited for Harry and we look forward to pictures and videos as they come along!
Clarinet Day: FREE Master Classes by  Tom Puwalski, Harry Skoler, and Pavel Vinnitsky
Saturday, November 8th, 2014 from 11:00-3:00
Rick's Musical Instruments
2352 Mendon Rd
Cumberland, RI 02864
401-658-3404
Congrats to Harry Skoler for another awesome event!
Jazz clarinetist Harry Skoler was born in Syracuse, NY in 1956. Harry is Professor of Woodwinds at Boston's prestigious Berklee College of Music. He received his Bachelor of Music degree from Berklee in 1978, and a Master of Music degree from New England Conservatory in 1986, where he studied with legendary jazz great Jimmy Giuffre. His recordings include Conversations in the Language of Jazz, Reflections on the Art of Swing – A Tribute to Benny Goodman, A Work of Heart on Brownstone Recordings, and Two Ones on Soliloquy Records.
####
Harry Skoler will be performing July 31st, 2014 at 7:30 PM at
Louisiana State University's Union Theater Concert Hall
Harry Skoler will be performing with brilliant and internationally known Jazz Clarinet artists Evan Christopher, Felix Peikli, and Gregory Agid, as part of the International Clarinet Association's ClarinetFest 2014 five-day event in Baton Rouge, Louisiana! Sponsorship includes Vandoren and Buffet Crampon (Buffet Group USA).
Each Clarinetist will have their own set, followed by a VandoJam jam session with All Four Clarinetists and Friends!
Information on ClarinetFest 2014, including all details for the five-day event, artist roster for all concerts and presentations, and much more is at the following link:
https://www.clarinet.org/clarinetFest2014/
###
Harry Skoler to Perform Monday, December 10th with the Group JEZVE at the Beehive in Boston.
Hi All,
Just writing to let you know I'm going to be a guest artist with the group JEZVE at the Beehive on Monday Dec. 10th.
I'm honored to play some pieces with this incredible group (Sagit Zilberman/Saxophone, Utar Artun/Piano, John Kemal/Drums, Galen Gregory Willett/Bass, Guest Artist Songyi Jeon/Voice) and if you have the opportunity to come and check it out, the info is below. I'll be joining in the first set. Both sets are filled with profound music of the heart! Hope to see you there!
Musically Yours,
Harry
Bio: Jazz clarinetist Harry Skoler was born in Syracuse, NY in 1956. Harry is Professor of Woodwinds at Boston's prestigious Berklee College of Music. He received his Bachelor of Music degree from Berklee in 1978, and a Master of Music degree from New England Conservatory in 1986, where he studied with legendary jazz great Jimmy Giuffre. His recordings include Conversations in the Language of Jazz, Reflections on the Art of Swing – A Tribute to Benny Goodman, A Work of Heart on Brownstone Recordings, and Two Ones on Soliloquy Records.
Haverhill, MA – Jazz clarinet player, releases Two Ones, original jazz compositions featuring intimate portraits expressed through quintet and duo settings. The Quintet features Harry/clarinet, Ed Saindon/vibes & piano, Matt Marvuglio/flute, Barry Smith/bass and Bob Tamagni/drums and the Duo features Harry/clarinet and Ed Saindon/piano. Harry was invited to perform in Oslo, Norway on June 5, 2009 with Norwegian jazz clarinetist Felix Peikli for a Benny Goodman 100th Anniversary Tribute and appeared on a TV show called Good Morning Norway, seen by about 700,000 viewers. On June 7, 2009 Harry and Felix appeared in Oslo at Tveten Gaard in concert. Two Ones has already been featured on NPR's Morning Edition show, which draws radio's largest listening audience at 13 million. Two pieces were featured ("Hope" and "Piazzolla") as Music Interludes May 20, 2009. #27/50 on Roots Jazz Chart! Available through CD Baby and iTunes.
Reviews:
"It's nice when a little charmer like this sneaks up and pulls on your coat. The unusual front line, the casual nature of the tunes, the inspired notion of balancing the full-group tracks with the duo setting … it all adds up to a minor jewel. If it gets noticed, Skoler should get busy with a follow-up."
– Jim Macnie, DownBeat
"The music is sweet, original, superbly performed and fluidly executed. With its flawless technical production values, this "Two Ones" is enthusiastically recommended to the attention of all jazz enthusiasts…"
– James A. Cox, Editor-in-Chief; Library Bookwatch
"Fifteen years ago, Ginny Shea listened to my dreams, and believed they were moments that should, could, and would be realized. Listening with heart and mind, she was my "voice" and representative in the truest sense! Whether it involved endorsements, reviews, promotion, or a detail that was precise and individualized, I always felt the steps taken to actualize my vision were above and beyond… Mixed Media possesses the essential elements of success: tenacity, confident skill and communication that is heartfelt! THANK YOU, Mixed Media!!"

Harry Skoler
Jazz Clarinetist
Associate Professor – Berklee College of Music